There are two things that we do very well.
On the one side, we can provide complete solutions based on the most popular robotic platforms on the market, e.g., SoftBank Pepper and NAO: you may be interested in our companion robot for older people.

On the other side, we provide cloud-based solutions for developers that can be integrated into your own robotic platform with minimal effort.
In both cases, our verbal and non-verbal interaction system runs on the CURA cloud: it is easily accessible through REST APIs, the most widely adopted solution to embed robots with cloud-based Artificial Intelligence. We have already developed client applications to interface Pepper and NAO to the cloud. However, CURA solutions can be easily adapted to robotic platforms with different characteristics, thanks to the highly modular approach adopted for the system's architecture.
If you are a robot developer, the answer is YES: we also have developed a ROS interface to make it easier for you to interface virtually any ROS-based platform to the CURA cloud.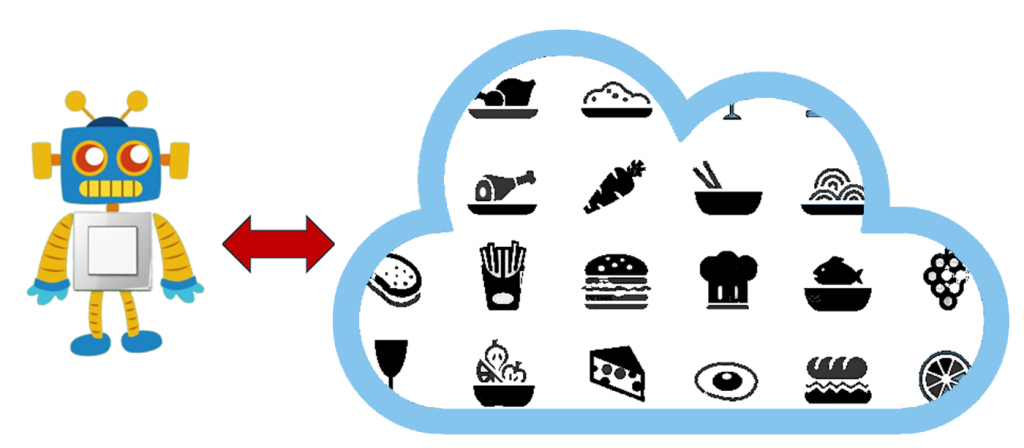 Please notice that a robot using CURA can adapt to the preference and needs of the person it interacts with.
An example of this idea is the figure: CURA is equipped with a knowledge base that encodes information about the preferences and needs of different people. A humanoid robot, a low-cost and small table-top robot, a home assistant, or a smartphone app can access the knowledge base and receive information related to the most appropriate behavior (i.e., what to say and do) depending on what sensors perceive and the person says. The knowledge base is implemented as an ontology, a popular tool to describe knowledge in a way that can be understood by an AI.
Since we want to avoid stereotyped representations of people, our ontology represents knowledge in a probabilistic sense. For example, even if most Italians are probably familiar with having spaghetti for lunch, we cannot assume all Italians love spaghetti or have spaghetti at every meal! In the example in the figure, the robot retrieves information on the most popular food in the country where the person lives. Then, during the conversation, the robot retrieves elements from the knowledge base to compose sentences appropriate to the context, being able to deepen the speech, respond to what the user says or asks, and propose new topics of conversation or activities (such as showing a video or challenge the user to a game). While doing this, the robot learns more about the person, their preferences, and needs.
We used this idea to create robots that talk about everything, including religion, hobbies, and sports, while always being aware of the diverse needs and preferences that people may have. And also robots with different personalities!
Do you need more information? Please feel free to contact us.